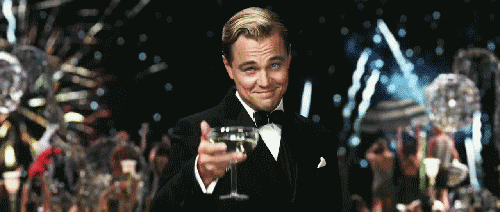 HAPPY NEW YEAR! I love a new year and all the possiblities it holds. We all have so much optimism at the beginning of the year . . . but usually my optimism runs out by March, lol.
#500Stories#500Nights Update
As will probably be the case most of the time, my list is skewed toward audio. I can listen to half a dozen stories a day via podcasts or audible, but I have a hard time chiseling out the time to read even one text-based story. So if you're thinking, "Sheesh! Why is the list mostly podcasts?!" it's because the format is easier to consume in great quantities. And why these particular podcasts, aside from they have an awesome variety? The more frequently listed podcasts (like Overcast and Pseudopod) make their stories available to the major podcast feeds; some mags create a podcast but only make the cast available on their website. Visiting individual websites is something I don't have time to do because I'm usually listening at work.
I've put an asterisk by the stories I particularly enjoyed, and a double asterisk by the stories I *REALLY* enjoyed or found interesting.
Dec 1: "The Curfew," by Roddy Doyle (The New Yorker: The Writer's Voice, Nov 26, 2019)
Dec 2: *"Bulletproof," by J. Askew (The Other Stories, 46.3)
Dec 3: "For your safety and Comfort. . ." by Michelle Ann King (The Overcast 111)
Dec 4: *"The Crusted Depths," by Daniel Willcocks (The Other Stories podcast, Oct. 20, 2019)
Dec 5: "Well Enough Alone," by Holly Schofield (The Overcast 112)
Dec 6: *"The Bleeding Maze: A Visitor's Guide," by Kurt Fawver (Nightmare Magazine Podcast, Aug 7, 2019)
Dec 7: *"The Lesser of Two Evils," by Shane Halbach (The Overcast 113)
Dec 8: *"Antripuu," by Simon Strantzas (Nightmare Magazine Podcast, July 10, 2019)
Dec 9: *"In the Walls," by Robert Reed (Daily Science Fiction, 12-6-19)
Dec 10: **"The School," Donald Barthelme (Read this one. Seriously) https://www.npr.org/programs/death/readings/stories/bart.html)
Dec 11: *"The Vaults of Yoh Vombis," by Clark Ashton-Smith (Pseudopod 611)
Dec 12: "The Night Princes," by Megan Arkenberg (Nightmare Magazine Podcast, June 5, 2019)
Dec 13: "Mofongo Knows, by Grady Hendrix (Pseudopod 612)
Dec 14: "Mastiff," by Joyce Carol Oates, read by Louise Erdrich (The New Yorker Fiction Podcast, Nov 2, 2013)
Dec 15: "Figure 8," by E. Catherine Tobler (Pseudopod 614)
Dec 16: *"Ten Excerpts from an Annotated Bibliography on the Cannibal Women of Ratnabar Island," by Nibedita Sen (Nightmare Magazine Podcast, May 15, 2019)
Dec 17: *"Different Kinds of Darkness," by David Langford (LeVar Burton Reads #19)
Dec 18: **"Eternity Plus Package, 89.99/Month," by Michael Milne (Overcast 118)
Dec 19: "The Lottery," by Shirley Jackson, read by A.M. Homes (The New Yorker Fiction Podcast, Nov 12, 2008) (Of course, this is a given absolute favorite)
Dec 20: *"The Solstice," by Kev Harrison (The Other Stories 47.1)
Dec 21: "The Fliers of Gy," by Ursula K Le Guin (LeVar Burton Reads podcast, 6-19-18)
Dec 22: *"A Fate Worse Than Death," by Matthew Butcher (The Other Stories 3.2)
Dec 23: "Dimensions," by F.I. Goldhaber (Overcast 104)
Dec 24: *"Malotibala Printing Press," by Mimi Mondal (Nightmare Magazine Podcast, May 1, 2019)
Dec 25: "How to Date a Brown Girl (Black Girl, White Girl, or Halfie)," Junot diaz (The New Yorker: Fiction, podcast, Jun 1, 2007)
Dec 26: *"Soft Mary's Flood," by Steven Pirie (Overcast 100)
Dec 27: "58 Rules to Ensure Your Husband Loves You Forever," by Rafeeat Aliyu (Nightmare Magazine Podcast, Feb 20, 2019)
Dec 28: *"Jackalope Wives," by Ursula Vernon (LeVar Burton Reads 32)
Dec 29: **"Fyrewall," by Stefani Cox (LeVar Burton Reads 31)
Dec 30: "Blue Christmas," by Jessica Levai (Overcast 119)
Dec 31: *"Terry Rowlings, Success Coach," by Luke Kondor (The Other Stories 3.3)
What Else I've Been Reading
During mornings at my day job, I've been listening to the short story podcasts. During the afternoon, I've been listening to audiobooks. I started with Trail of Lightning by Rebecca Roanhorse. This one is interesting because, in my opinion, it fits in three genres: Native American fiction, fantasy fiction, and new adult fiction. I wasn't sure if I even wanted to try it because I avoid young-adult and new-adult fiction like the plague (not that there's anything wrong with it; I just know from experience I don't enjoy YA & NA at all). I dabble in fantasy, but it's not my go-to genre. On the other hand, Native American fiction is my jam.
It was good, and I can see why it has received so many accolades, but it was also very YA-NA and wasn't my taste. However, if you enjoy the genre, I would highly recommend it. It's like if Bella was Native and a fiercely independent monster hunter (watch out Edward!); or if Hermoine was!
My second audiobook didn't quite work out, either, though I thought I'd made a solid choice: Something Wicked This Way Comes, by Ray Bradbury. I've read this one before when I was a kid, and it illustrates the danger of revisiting a beloved story/movie/etc from the past. I love Bradbury, and I remember loving this story back in the day. But this time around, the story felt incredibly dated. The dialogue was way too Leave it to Beaver for me. "Aw, Gee Wally, that'd be swell." And every word out of Mr. Halloway's mouth seemed contrived and forced. His dialogue just didn't seem natural. Then again, this is really YA too, so maybe that's part of it. I just have no taste for the genre at all anymore. So now I'm all disappointed that I don't like the story anymore.
2019 Goals Update
I actually did really well on my goals this year. I'm pretty damn proud of myself.
Update the website: Nope. Okay, so this one didn't work out so much. Carrying it forward. Hope I can do it this year.
Send out 8 new short stories (which implies *writing* eight new short stories): CHECK (on a technicality). I began eight new pieces of short fiction this year, but I only finished and sent out seven. The reason the eighth didn't get finished is because my English class required 10 short papers, 3 long papers, and a group project. So, for that class, I wrote and edited over 35 pages. My short stories are usually only 8-10 pages. So I'm counting all that writing for the English class as the eighth story.
Make a decision on four older, as-yet-unpublished stories: trunk or fix. CHECK! I ended up working on them a bit and sending them out again…only to have them rejected. I'm probably going to trunk them in 2020.
Resubmit at least four previously published stories to reprint markets. CHECK!
Read one long form work every month. CHECK! Did it, and then some, and added the:
Read #500Stories500Nights. Started a long-term short story challenge. CHECK (so far, so good, anyway).
2020 Goals
Update the website. I'm not giving up on this goal!
Write and send out eight new short stories again. I'm going to use lessons learned from my 2019 attempt to make reaching this goal easier this coming year.
No goal related to the four or five older, unpublished stories I have lying around. I'll probably just trunk them and concentrate on new stories and reprints.
Resubmit three previously published stories. This goal is slightly reduced from last year in order to give me more time for new stories.
For a reading goal, I'm going to stick with #500Stories500Nights.
And for something totally different: dabble in horror poetry. It's so VERY different from what I normally do that I don't even want to set a "send out X poem(s)" goal; I'd just like to try to write one horror poem, just for kicks.
That's it for this month! Until next month, happy reading!