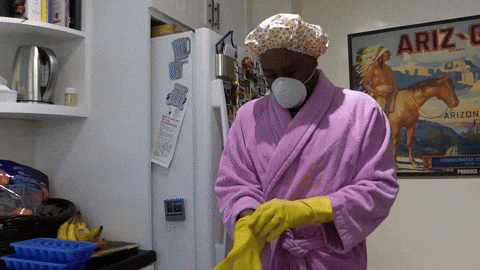 Well, who ever thought we'd be living in a global pandemic? We are all living in a real-life horror story, and it's hard right now to focus on anything but that!
My writing has taken a hit because of it. I've been doing a great job of keeping my work out there, making the rounds, but I haven't written squat. Part of it is time. I'm an essential employee where I work (which I've been trying to tell them for years! Ha!), and I'm adjusting to a new social-distancing work schedule. Getting up at 2 am for work is something I haven't had to do in years! It definitely takes some getting used to. Plus, my college class is still going, though we are no longer meeting in person. So I'm trying to fit readings and classwork in there, too. I really feel like these days I go to work, come home and make food, do my homework, and by the time I'm done with that, it's time to go to bed and start all over again.
Speaking of making food . . . holy moly, I had no idea how often hubby and I ate at restaurants! My cooking skills are SO rusty, but since I'm the first one home, I'm responsible for supper these days (hubby is an essential employee, too, at another business). Figuring out meals and cooking them is another drain on my time that I normally don't have to worry about.
But part of the not writing is that it just feels so . . . ridiculous? Is that the right word? Maybe. What horror story could I possibly write that is scarier than what's really going on in the world right now? Plus I'm stressed out–my personality type does not deal with uncertainty well at all–which makes me have zero creative spark.
I also haven't felt like doing much reading beyond what I have to do for my class. Normally, I listen to five or six podcasts a day and pick one to include on my #500 list. Now, I have to force myself to listen to one a day so I can keep up with the challenge. I *should* be listening to more, because it is never good when I spend too much time in my own head, and my job really means I can end up spending a lot of time in my own head if I don't have something else to listen to and occupy my mind while my hands are busy with the mice. I did complete the March challenge, though, and I'm resolved to keep at it in April, too.
March 2020 #500Stories500Nights
Mar 1: "Roman Fever," by Edith Wharton (https://www.newberry.org/sites/default/files/calendar-attachments/Roman%20Fever%20-%20Edith%20Wharton.pdf)
Mar 2: "The Ape That Would Not Die!" by Megan R. Engelhardt (Gallery of Curiosities, Dec 15 2016)
Mar 3: "Alone, Together," by Robert Kirkman (Nightmare Magazine Podcast, 9-11-13)
Mar 4: "Mothers, Watch Over Me," by Maria Haskins (Cast of Wonders 401)
Mar 5: "Die Sleeping My Sweet," by Glenn McQuaid (Tales From Beyond the Pale 19)
Mar 6: "Things Boys Do," by Pemi Aguda (Nightmare Magazine Podcast, 2-19-20)
Mar 7: "The JPEG of Dorian Gray," by Brian Trent (Podcasts from 3F-Third Flatiron)
Mar 8: "The Case of the Signet Ring," by Aaron Vlek (The Wicked Library 905)
Mar 9: "The Surstrommings Chest of Drawers," by Irene Cantizano Bescos (Tales to Terrify 421)
Mar 10: "The Call of Cthulhu," HP Lovecraft (Nocturnal Transmissions 4 & 5)
Mar 11: "Primrose or Return to Il'maril," by Mary McMyne (Drabblecast 353)
Mar 12: "The Steeplechase Flourish," by Patrick Meegan (Nocturnal Transmissions 18)
Mar 13: "Knitting in English," by Brit E. B. Hvide (Cast of Wonders 400)
Mar 14: "Rat's Alley," by Timothy Mudie (Tales to Terrify 419)
Mar 15: "Kinda Like Salmon," by Keffy Kehrli (Drabblecast 350)
Mar 16: "In the Eyes of the Needy," by Jonathon Schneeweiss (Drabblecast 350)
Mar 17: "The Man in Number 23," by Christopher Long (The Wicked Library 902)
Mar 18: "How Pappy Got Five Acres Back and Calvin Stayed on the Farm," by B.C. Bell (Tales to Terrify 4)
Mar 19: "A Thousand Echoes in One Voice," by Deborah L. Davitt (Overcast 97)
Mar 20: "The Monkey's Paw," by W.W. Jacob's (Nocturnal Transmission 11)
Mar 21: "Unforgotten," by Christopher Fowler (Pseudopod 404)
Mar 22: "The Giant Who Dreamed of Summer," by Jess Hyslop (Cast of Wonders 111)
Mar 23: "The Sun Greeter," by Marilyn K Martin (Podcasts from 3F-Third Flatiron 9-1-13)
Mar 24: "Forgiveness," by Joseph Konrath (Nocturnal Transmissions 6)
Mar 25: "Is There Anybody There," by Kim Newman (Tales to Terrify 5)
Mar 26: "An Evening At The Club as told by Dr. Horatio Boyle," by Kate Philbrick (Gallery of Curiosities Vintage Clubbing Double Feature 12-31-16?)
Mar 27: "Gingerbread Men," by Myk Pilgrim (The Wicked Library TWL 821)
Mar 28: "The Malthus Alternative," by Jamie Mason (Cast of Wonders 113)
Mar 29: "An Egg of Stone and Steel," by Stephen Williams (Nocturnal Transmissions 12)
Mar 30: "The Last of the Spice Schooners," by Philip Brian Hall (Gallery of Curiosities 12-31-16)
Mar 31: "The Crush," by Glenn McQuaid (Tales From Beyond the Pale 3)
As awful as things seem now, in the middle of the pandemic, I am keeping hope alive and planning for summer as if this will all be over by then. It's an important part of keeping one's sanity to keep hope alive. As such, we have purchased a new camper in preparation for the summer camping season. Though it has arrived at the dealer, we haven't been able to pick it up yet because our old camper (our trade-in) is still buried in a snowbank in the backyard. Expect pictures to be forthcoming, hopefully in next month's blog.
For now, stay home and stay safe, and hopefully we'll all have happier news to share next month.